Puppies
If you would like to have some thoughts about how to find the right dog for you, click here for a document written by a friend that might be helpful.
Even though we only have a few litters each year, we have enjoyed each one, and there is a special pleasure in finding just the right home for one of our babies. Most families want a special pet, but from time-to-time there is someone that is looking for a pet that is also a show prospect.
We are very careful to have beautiful, healthy dogs as parents of future generations of Westies and Norwich. Then, we find the best dads from across the country. Our girls come in season about twice a year, and of course they are not bred each time, but once bred, gestation is about two months. Then, it's another 10-12 weeks until babies are old enough to go home.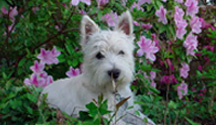 Each pup is carefully checked by a vet, has at least two sets of shots, a microchip, kennel cough vaccine and other things as appropriate. New owners get copies of Westies from Head to Tail and How to Raise a Puppy You can Live With as soon as we have a deposit to help them be ready for their little package of fur to come home.
You can look at two documents that might answer some questions: "Some usual questions and answers about buying a pup" and a copy of our "sales agreement and guarantee" by clicking on the one that interests you. We also don't recommend a terrier pup to a family with pre-school children.
Often, if we don't have puppies, we can let you know who might since we are involved with local and national clubs. Since we might only have 5-10 pups each year, there are other quality breeders than we can happily refer.
Also, if you have never seen a Westie or Norwich terrier, you are welcome to come and visit our home and all the little dogs. It's good to see how they REALLY look – especially after you've seen all the beautiful photos and show dogs. We look forward to meeting you and introducing you to these wonderful terriers.